Problem list
The Problems section brings an overview of all BIA problems currently available in BIAFLOWS online instance. Each Problem recapitulates a common BIA Problem by gathering a set of ground truth annotated images and compatible workflows to process them.
Clicking on a Problem redirects to the list of images available for this Problem.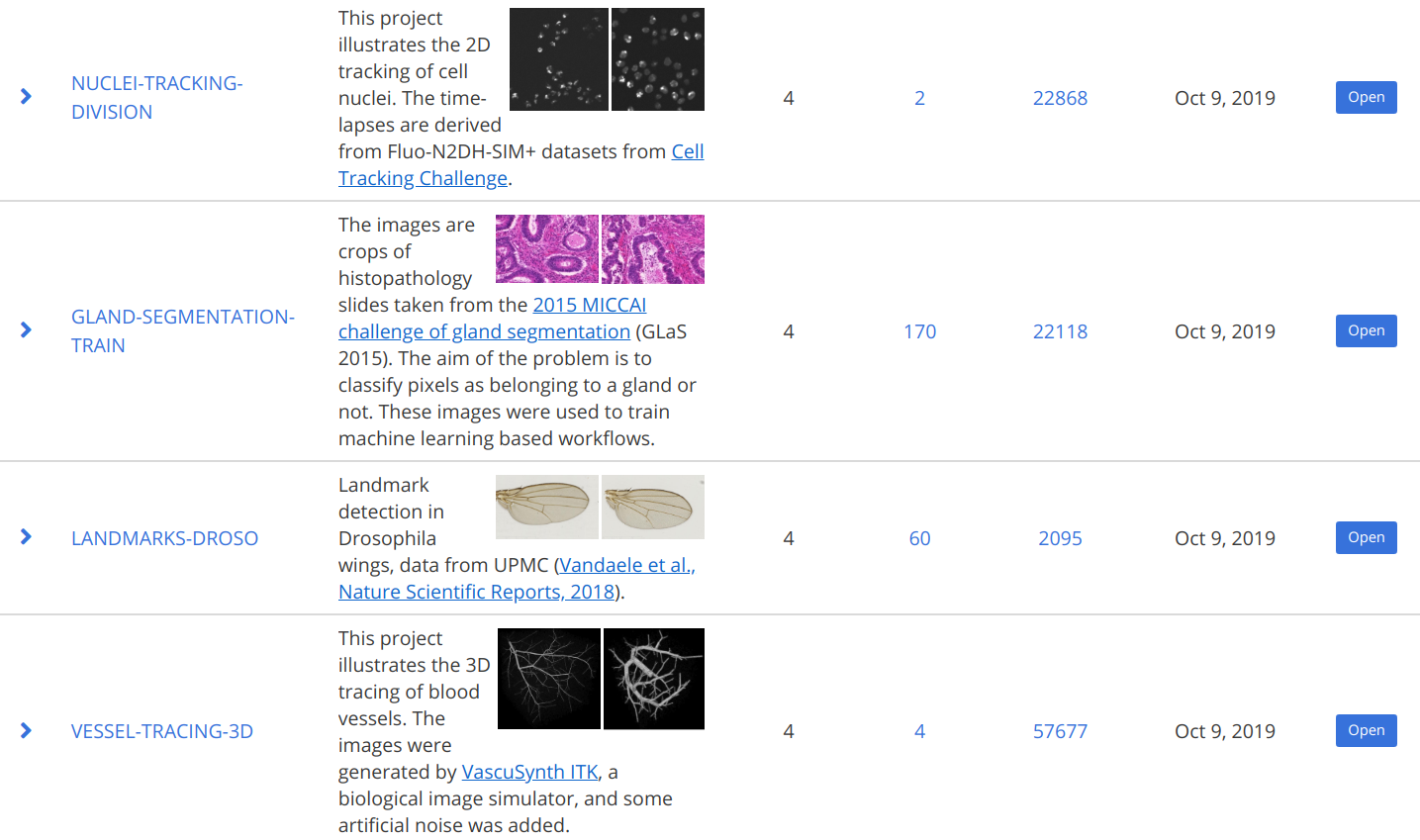 A Problem class (e.g. object segmentation) is associated to every Problem; BIAFLOWS currently supports 9 Problem classes:
Object counting
Object detection
Landmark detection
Object segmentation
Particle tracking
Object tracking
Pixel classification
Filament tree tracing
Filament networks tracing
A Problem class specifies the format of ground truth annotations (e.g. skeleton binary mask), as well as the benchmark metrics to be evaluated on all annotated images available for that Problem. The annotation format is identical to the output expected by the workflows of a Problem. See this document and the contextual help (information icons) from Benchmark results table.
Images
This table lists all the images for the current Problem, where details can be displayed for each image.

Images can be filtered by name by typing a keyword in the search bar and they can be visualized by clicking on their name or thumbnail.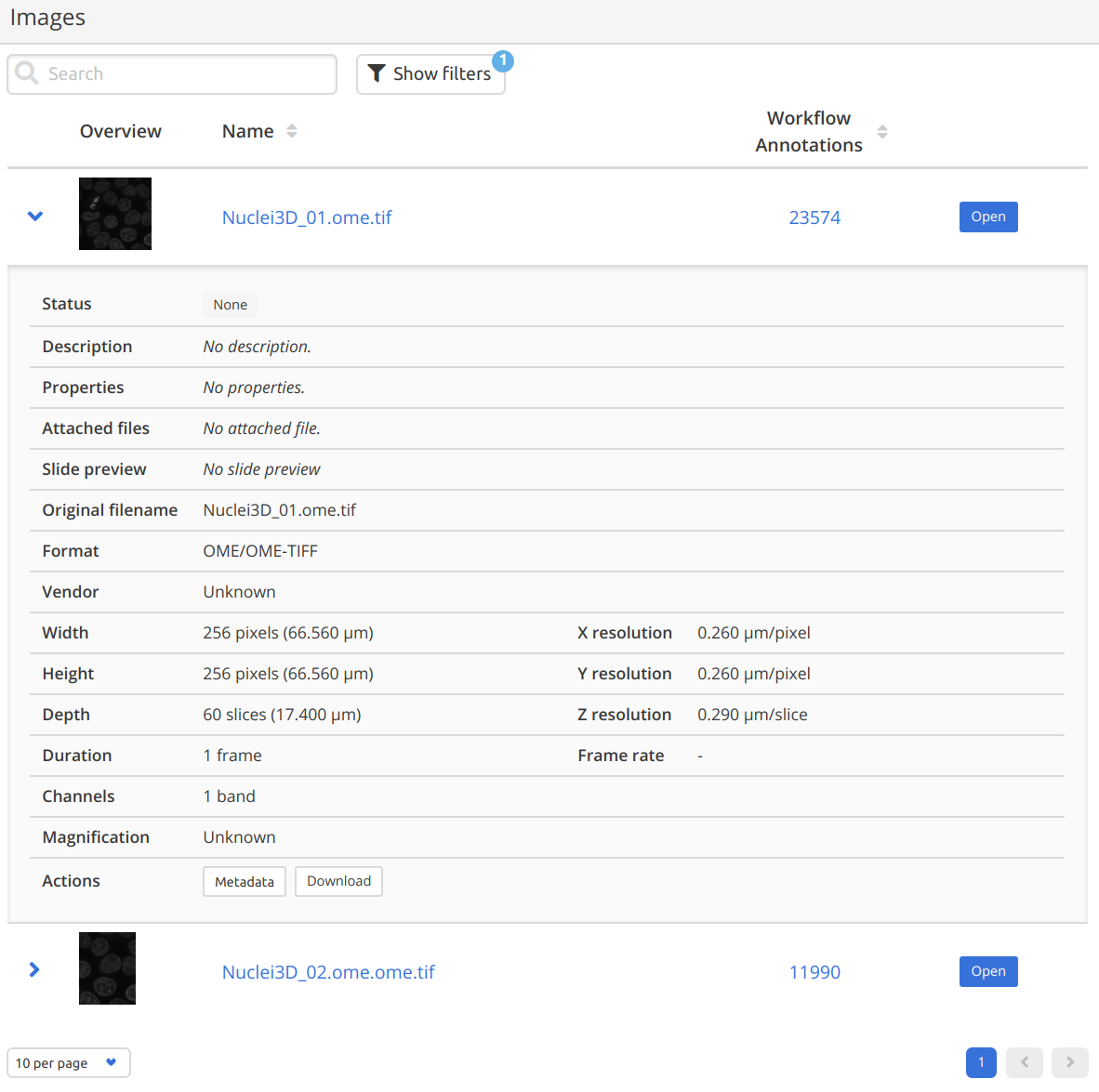 In case ground truth annotations are stored as image masks (this depends on the problem class), the masks can be displayed by toggling a filter (click on "Show filters" then select Type > Groundtruth). If ground truth annotations are in a different format (e.g. SWC or text file), they can be accessed through the Attached Files available from Image description (blue arrow).
Finally, all images can be downloaded from the button.
Image Viewer
You can click on an image in the image list to open the Image Viewer.
Navigation
Use mouse scroll to zoom in/out, click + drag to move around.
For multidimensional images, C-Z-T slicers automatically appears (when applicable) to navigate through the slices.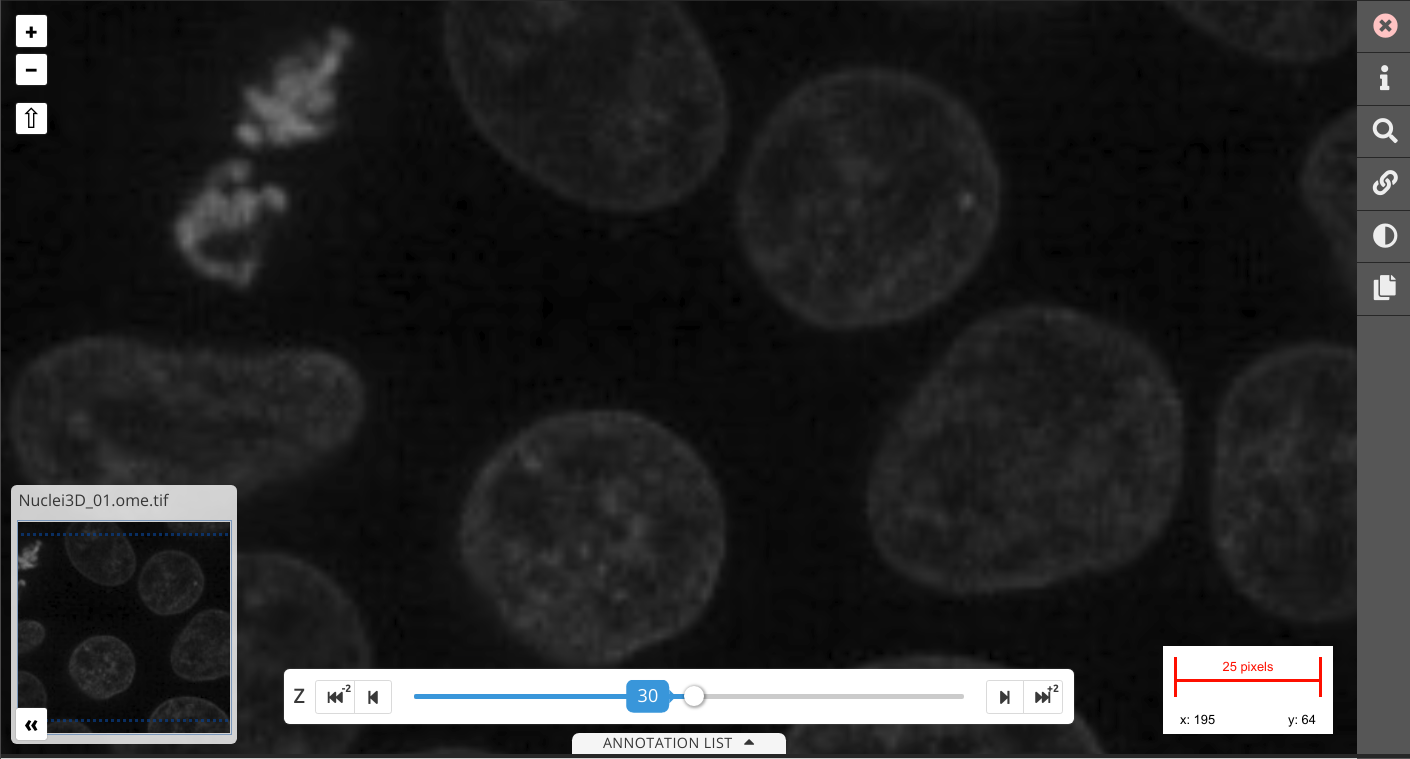 Layers
To overlay an annotation layer, click on in the right toolbar.
Annotation layers are generated from the results of a workflow run. Several layers can be overlaid on the original image, and they can be hidden by unselecting the checkbox under the symbol, or removed using .
By default, the ground truth layer is selected and visible in blue

You can add as many annotation layer as you want. By default, each layer is displayed with a unique color.

If you uncheck the check box COLOR ANNOTATION PER LAYER, a unique color is set by object instead of by layer.

In addition, LAYER OPACITY can be adjusted with the bottom slider.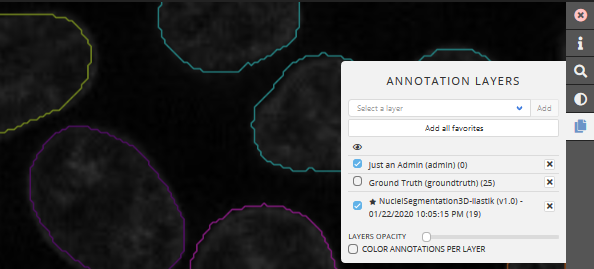 If you do not know which annotation layer to display, click on . Favorite workflow runs were validated by their maintainer as providing representative results.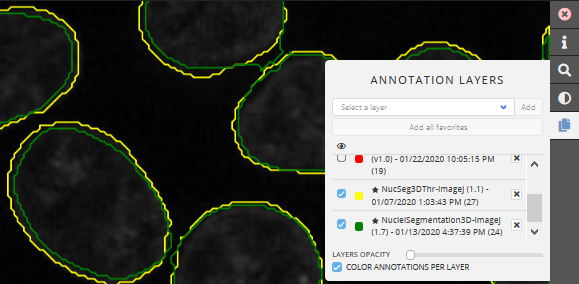 Multiple viewers
It is also possible to have multiple viewers opened at once and synchronized (e.g. 4 synchronized views where top left is the original image and others are workflow runs overlays):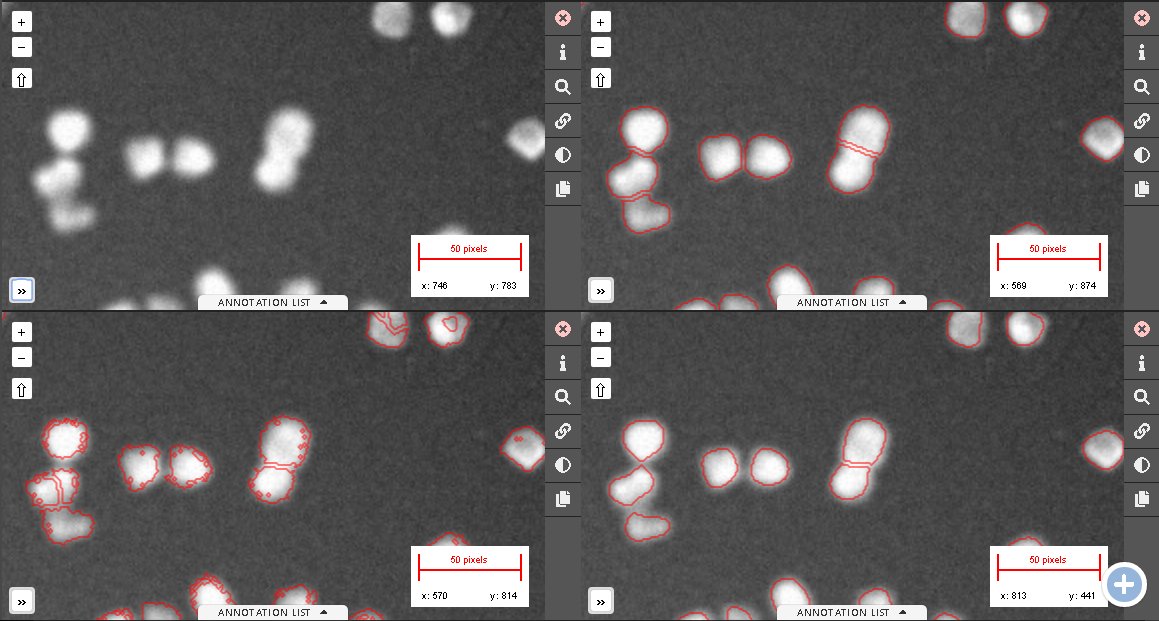 This feature can be used to open the same image several times and compare different workflow runs through the display of corresponding annotation layers. To do so, select an image from the upper left drop down menu and click on the big blue button (bottom right corner), select a workflow in the annotation layers , then use (in the right toolbar) to synchronize the views.
The current image can be downloaded by clicking on the image information panel in the right toolbar, then on (next to More information). For 2D images, it is also possible to switch to previous/next image using corresponding buttons ( / ) from this panel.
Finally, clicking on an annotation in the viewer will display some information (e.g. annotation area and perimeter).
Image adjustments
Contrast and gamma correction can be adjusted from the panel (right toolbar). The image can also be video inverted from this panel.